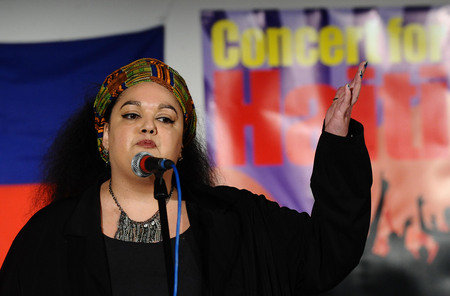 As a spoken word artist and a published performance poet, Zita has performed at a diverse range of events, including the National Diversity Awards, Glastonbury, The Houses of Parliament, TUC and had the honour of writing and performing a tribute poem at the official UK Memorial Service for Nelson Mandela. She also performs regularly on radio and television and has been published in a range of anthologies. She is a former member of the Brothaman Poetry Collective and former resident poet & Co-host of Nu Whirled Voyces.
Her new collection of poetry launched this year at the TUC Black Workers Conference is published by Hansib Publications and features Zita's art as well as her poems and quotes
Zita is a former backing vocalist and singer / songwriter who has collaborated with a range of soul & jazz artists including Melissa Bell (former lead singer of Soul to Soul) and Jeff Conan (keyboards / band member Courtney Pine, Mary J Blige, Gwen Dickey, and many others ). Former member & backing vocalist for Session Singers & Singers Paradise.
Copyright © 2016 Zita Holbourne