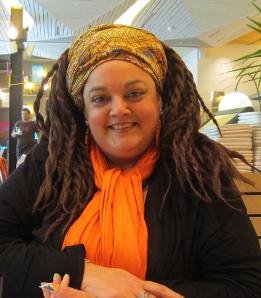 Biography
Zita is an award winning, trade union, community & human rights campaigner and activist, sell-out author, visual artist, curator, poet and writer. She studied art & graphic design at the London College of Printing and Watford School of Art. Zita has over 30 years of experience working as a graphic designer, illustrator & make-up artist and exhibits at a range of cultural, community & political events.
Outside of her creative pursuits Zita has worked in employment law and rights, industrial relations and has been a senior trade activist for 25 years and counting. Zita has curated political and cultural art exhibitions to challenge racism, wider discrimination, injustice and to promote equality, justice, rights and freedom.
She is the founder of the Roots, Culture and Identity arts collective and touring exhibitions, showcasing the art of predominantly young black, Asian and migrant artists. Zita was commissioned by the TUC to design a poster for the TUC Stephen Lawrence Trust Fundraising Appeal; her art has been used for numerous campaign leaflets, flyers, posters and adverts including the Palestine Solidarity Campaign joining form.
Zita is a proud and committed trade union activist and is elected to the PCS Union National Executive Committee & the TUC Race Relations Committee. Her political views and opinions are regularly featured in print and braodcast media and she is a regular writer for news sources including The Voice, The Morning Star and most recently The Guardian
She is the Co-Founder and National Co-Chair of Black Activists Rising Against Cuts (BARAC) UK, elected to the ACTSA (successor to the Anti-Apartheid Movement) National Executive Council and the Movement Against Xenophobia National Steering Group.
Zita won the positive role model for race award at the National Diversity Awards in 2012, was listed as one of the top 10 African & Caribbean Women of the Year in 2013 and was a finalist and one of 5 people's choice poets in the Manorlogz Xtreme Spoken Word Contest in 2013.
She is one of 17 British women campaigners featured in the new book Here We Stand; Women Changing the World, which won the Bread and Roses Award for Radical Publishing in 2015.
Zita campaigns for Equality, Freedom, Justice & Human Rights through art, poetry and activism.
She is a Labour Party activist and Co-founder of United Black Labour for Jeremy Corbyn.
Contact Zita as follows:
Email: zitabaracuk@gmail.com
Email: info@zitaholbourne.com
BARAC UK by Web: www.blackactivistsrisingagainstcuts.blogspot.com
Copyright © 2016 Zita Holbourne